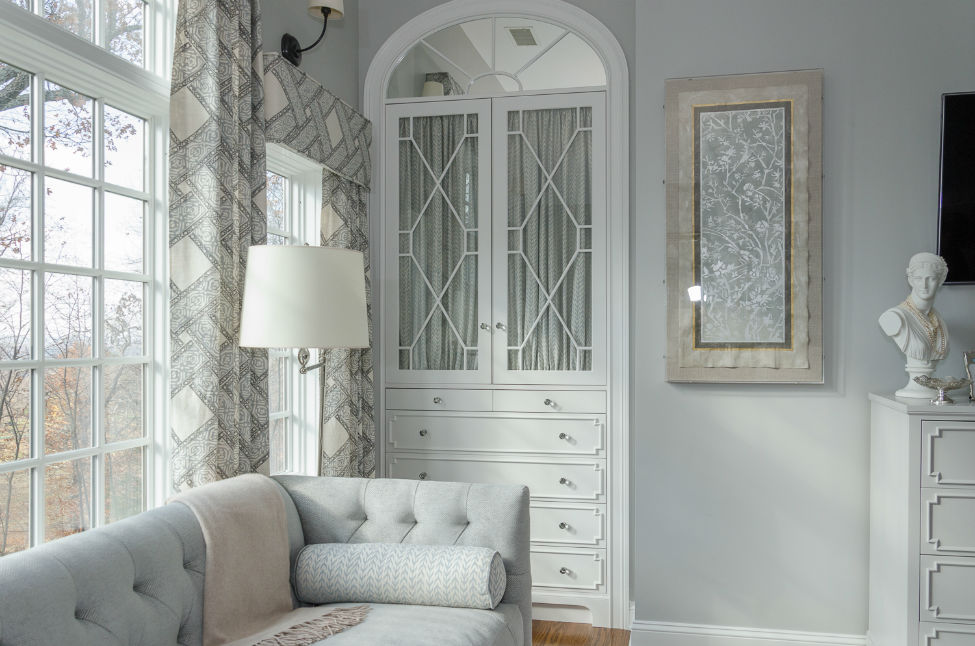 How much? It is often the unspoken elephant in the room when discussing and planning a home transformation.
The investment necessary is always tricky to project and sometimes hard for the client to appreciate when the proposal is presented.
We all have our preconceived notions of what things should be worth. But seeing all the components that are carefully curated and crafted into a room's specifications and totaled as one line item can make a root canal look like a better alternative.
I recently had that experience happen to me for the first time since Verve's early days in business twelve years ago. That total line item forced an entire project to be canceled… and it came as a shocker to me.
I had spent a few months on this project, designing, specifying and installing lighting fixtures, designing custom cabinetry, paint selections throughout the house, installing wallpaper and tile selection. Then the furniture plan was presented for 3-4 spaces with all the supporting presentation materials and it seemed to go pretty well.
I thought there would be some edits for financial reasons but we would modify and move forward. Instead, it was what every designer loathes… I was thanked, complimented, but told they were going to shop it at retail instead to save money.
Now, I had conveyed to them at the onset of what the Verve's threshold is to furnish a space and that total fell within that range. I truly believe, however, that the excitement of planning a creative makeover can lead those important details to be swept under the denial rug… until the rug is rolled up and reality is on an 8×11 sheet of paper before them. Needless to say, I was naturally very let down.
We pour our hearts and souls into this creative process. When it gets to the presentation stage it is almost as if we are in our second trimester of a pregnancy. The idea of not delivering the finished transformation that has been carefully nurtured is such a loss on so many levels.
I think the impression of shopping at retail seems like a less expensive alternative than hiring a designer to pick things out with all their fancy fabrics and trims tacked onto everything. At least, I believe that is a generalized assumption for many embarking on their first design project.
While we actually should and do get paid for the abundant amount of time it takes to create and execute this transformation, the obvious conclusion should be that your hired professional will envision and deliver a result that is far better than you could have orchestrated. That deliverable is why you invest in a professional service.
Additionally, the time that you are NOT planning, measuring, scaling, designing, developing, sourcing, buying, ordering, communicating, managing, tracking, delivering and probably dealing with the number of customer services issues that might arise should be WORTH something to you beyond your own sanity.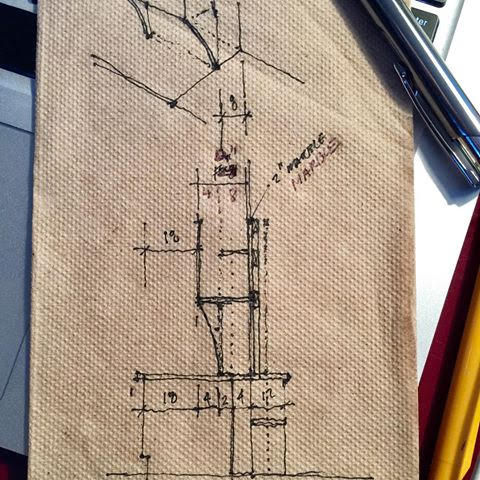 When it comes to actual products, however, this notion that retail is always a better deal can be misleading… and yes, that is relative. For the sake of my own understanding and as a means of coping with this project set back, I decided to embark on a little experiment of my own. I designed a basic medium size family room using my vendors and priced it out. For the sake of this comparison, I selected slightly more fashion-forward brands that have a public image of being better range quality.
Now, you can certainly go to lesser expensive retail and mail order/online options and select furniture that would obviously cost less. But for this purpose, I chose lines that were more design forward without being "luxury". I have worked in this industry for many years and on many levels and know construction quite well.
For my company, I will only choose manufacturers whose quality I can depend on and who I believe in.
At the end of the day, that is my name on the line and I will not fall into a pricing rabbit hole to provide short-term happiness to my clients. My company position on this is that if you cannot afford the estimated range I map out for you at the onset, I am not your girl… and that is perfectly fine. There is a design fit for everyone.
With all this said, I did a price comparison with two national companies: Restoration Hardware and Serena & Lily. Below you can see one room mapped out with options as similar as I could find and their relative pricing.
It is no shock to me that the two retail options are actually more expensive than my pricing (when window treatments are factored in as well at S&L)! When you total up all those components, you can see that there is a fairly consistent total range that each purchase option arrives at.
Additionally, in many instances, the product that I am able to offer at those price points has been customized, personalized and embellished with details that are beyond the limited ranges that a retailer can productively offer.
Interior Design Budget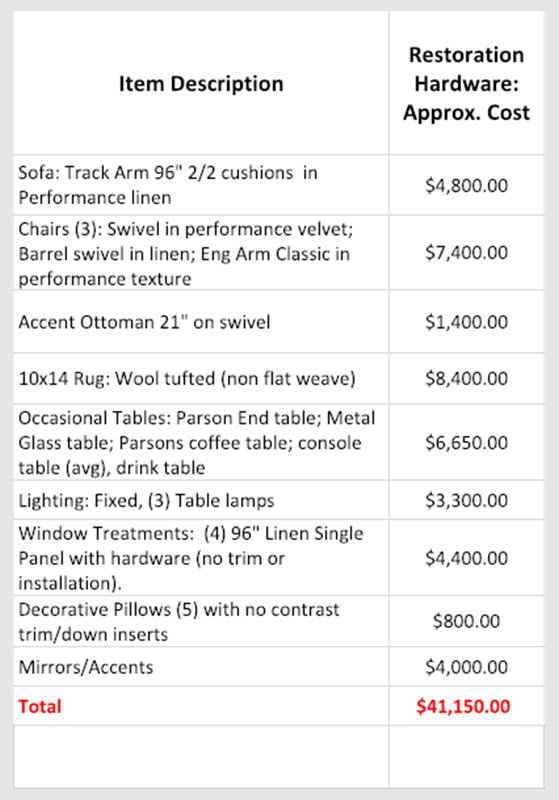 I think understanding the real total investment of a fully furnished space is valuable.
It is not a reasonably large investment because it is "designer pricing". It is because it is quality workmanship, curated, styled and scaled to the client's tastes and functional preference, delivered and installed into their home.
What is that worth?