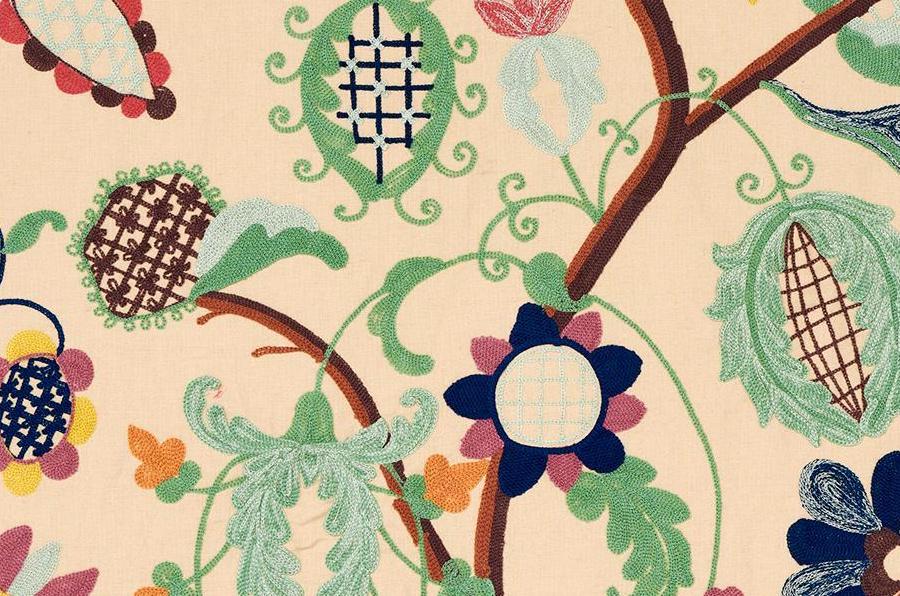 Mandevilla Embroidery, Schumacher & Co.
There is no better way to punch up the decor of a room than by introducing an eye-catching wallpaper.  Even when applied to a single accent wall, a recessed nook, or a framed panel wallpaper can instantly add color, texture, and richness to an otherwise lackluster space. Here at Verve Design we have sifted through the vast of array wallpaper designs and organized them into 8 basic categories, with the intent to better help our clients choose a style that best fits their aesthetic. But before we explore these in depth, let's first take a quick look at the history of wallpaper and how this product has become such a popular feature of interior design today.
From Cupboard to Wall
The earliest known application of wallpaper as a decorative element was in the 16th century, where it was strictly found in merchant class homes, lining the insides of cupboards or to adorning the walls of smaller rooms. Not until the turn of the 20th Century would its use became more pervasive, crossing socio-economic lines and showing up in pretty much every type of available space in the home – be they drawing rooms, dining rooms, kitchens, bedroom, or bathrooms. This growing appeal can be attributed, in part, to the arrival of hand-painted Chinese murals, a product of the late 17th century trade interests with China. An expensive item to purchase, this new decorative paper captured the attention of the European aristocracy and quickly became a fashionable method of adorning the walls of their palatial homes.
While the first wallpaper styles were restricted to monochromatic prints, applied with black ink to small sheets of paper, the development of wood block-printing made it possible to generate repeat patterns on larger rolls of paper. The more time-intensive process of overlaying multiple blocks to the same roll of paper eventually made it possible to create polychromatic patterns, a colorful improvement on these earlier single dimensional designs. Flock-style prints also grew in popularity, drawing their inspiration from embroidered and silk-screened textiles – a form of decorative wall-coverings that had already been in use by the time this new technology exploded on the scene.
With so many colorful designs in the offering, the wallpaper industry flourished. And by the 18th century, a vast array of floral and pastural patterns, inspired by the original Chinese hand-painted paper, flooded the market. Still, it wasn't until the invention of the first wallpaper printing machine in 1839, by Potters & Ross, that mass-produced wallpaper overtook the traditional block-printing techniques, and led to this decorative form becoming more affordable for the general public. While the ever-changing patterns and designs may reflect the evolving taste and styles in the decades since its inception, wallpaper remains a highly popular design element, one that is still commonly found in homes around the globe.
The 8 Basic Style
1. Florals
Floral prints never go out of style. Whether they're big and bold, or cute and subtle, there is a wide variety of fresh floral and botanical patterns suited for every preference. In general terms, these prints have the tendency to be seen more nostalgic or romantic, if not outright feminine by design. And while, traditionally, this may have been true, today's florals include such a wider range of modern prints and colors that there really is no limit to its application. It is just as common today to find floral paper in a dining room or entrance hall, as it is in a bedroom, bathroom, or dressing room – where it was more typically hung in the past. Suffice it to say that this style of paper is as popular today as it ever was, and given the infinite number of designs to choose from, it's more likely to find one that vibes with your aesthetic.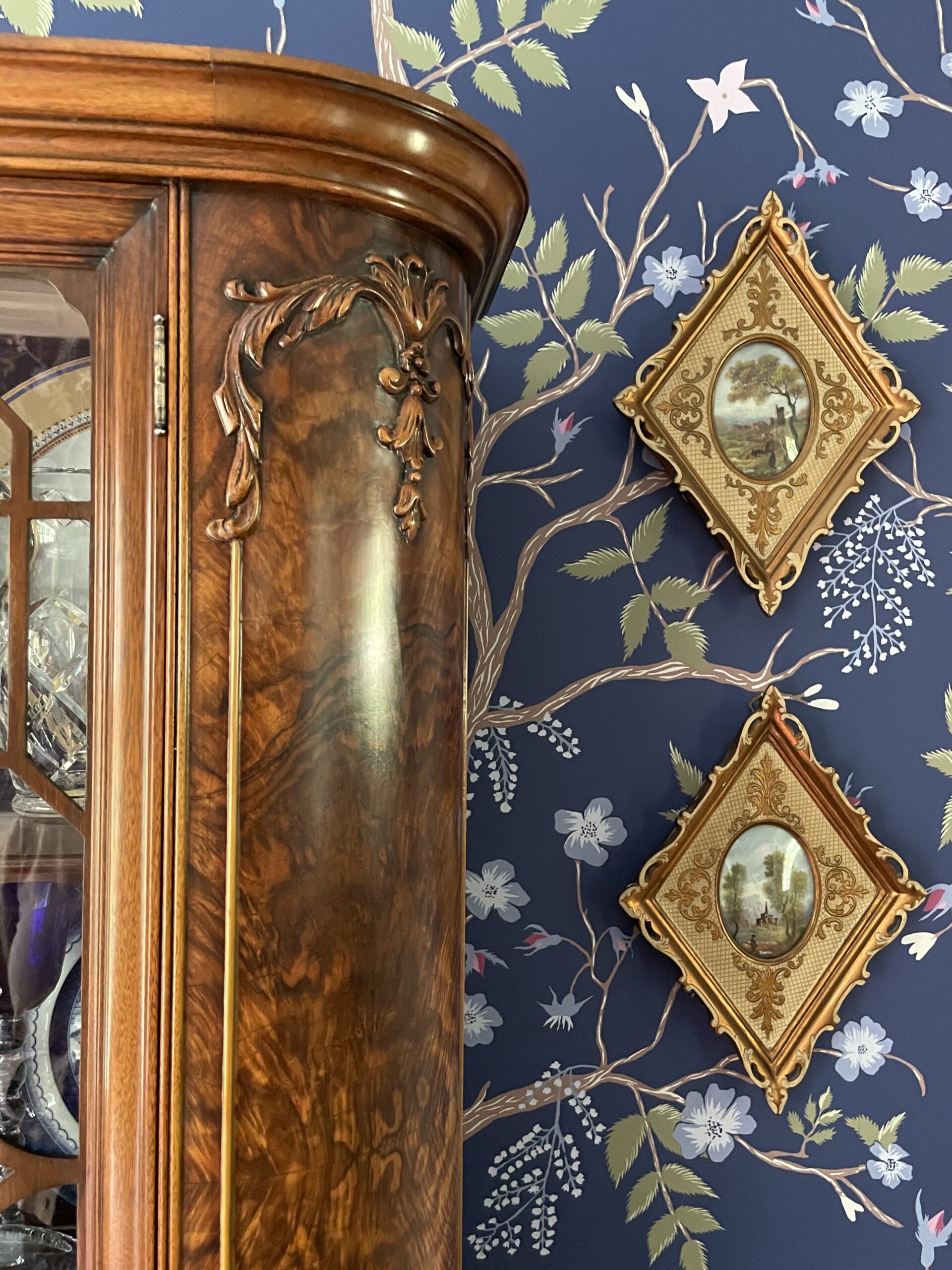 2. Stripes
It's safe to say that striped wallpaper is generally viewed as a conservative choice. Often associated with a more formal rigidity than anything else, it is thought to imbue a distinctly toned down and masculine feel to the room. This conservative stigma is, flatly, untrue. Particularly when you consider the colorful combinations of striped designs available today. Stripes no longer dwell in the land of buttoned-up tradition. They can be as bright and playful as any other style; it just takes a bit of imagination, and perhaps an open mind, when choosing the stripes that will best evoke the decorative mood you wish to create. Moreover, there are few rooms in which it can't be used, making it one of the more versatile styles on the roster.
3. Geometric and Graphic
Both modern and artistic, geometric wallpaper designs are all about creating dimensionality. Depending on the style and complexity of the print you use, they can evoke a myriad of emotional responses to the design of a room. They're also quite versatile and therefore, like stripes, work in all different types of rooms. As many of the patterns traditional, they typically work best with designs that showcase a more contemporary style. That being said, Arabesque (see image below) and Greek Key patterns also fall within this category, and they definitely have a more classic or even preppy feel to them. Frankly, there really is no limit to the types of patterns we can find in this style. Whether it's sharp angles or blunt and rounded edges, this category always delivers an emotional punch – be it dramatic, heady, or playful. What's more, the style work well on either a single accent wall or covering the entire room.
4. Textured Wall-Coverings
Textured wall-coverings typically consist of organic fabrics. And while they do not technically fall under the definition of wallpaper, they are such a relevant and popular form of wall covering that we need to include them in our list. These coverings are made from a range of natural fibers, including grass cloth, hemp, linen, and silk. Textured nylon, which is manufactured to either mimic these organic fabrics or create raised shapes and patterns, must be included among these, and can be a wonderful element in a wet space, such as a bathroom. The advantage to using textured wall covering is that it can add both warmth and dimension to a room. And given the present trend in naturalist décor, they've become an extremely popular choice. Another benefit is that it typically comes in monochromatic tones, making it an ideal backdrop to display framed-art — which cannot always be said of printed paper — and thus present a great alternative to paint. One final note: textured wall covering work extremely well when mixed and matched with both printed paper and paint.
5. Mural Paper
There is no question: when applied correctly, mural wallpaper can be a stunning addition to a room's décor. At the very least, it'll make a statement – though ideally one that doesn't overwhelm the room. This is why it's important to consult an experienced designer when going in this direction. It is strikingly beautiful on an accent wall (for example, behind the bed in a master suite). And hung in a recessed alcove or within framed French paneling is another wonderful option. But, bear in mind, it can be equally effective when applied to a full space, or even above wainscoting. This style of wallpaper tends to create a very traditional feel; in fact, the concept originates from the Chinese hand-painted paper designs of the 18th Century. Nevertheless, modern wallpaper designers are doing some innovate things with this old-school style that has propelled it into the current century, giving it a fresh and contemporary feel, yet still delivering that awe-inspiring effect that this grand-scaled paper is historically known for.
6. Biophilic
Biophilic wallpapers are another new trend in interior design. They are all about bringing nature indoors, embracing the notion that health and productivity can be improved through a nature-inspired décor. If nothing else, this style will elevate overall mood of a room through use of vibrant green hues — a color known for its calming effect. It can be particularly beneficial in a subterranean rooms where natural light tend to be a problem, and is too limited to support any plant life.
7. Gradient
Abstract and minimalist, gradient wallpaper (also known as ombré) is a relatively new style. This paper is all about setting an emotional tone. It can be optimal in a space in which you wish to evoke a soothing or even meditative response. Consequently, it's well-suited to specialized room, such as a home wellness room or spa. That being said, there really are no limits to its use. Hang it in a powder room, or foyer, or even in a formal living room – although it's probably best to restrict it to a single accent wall in these larger rooms. It's important to point out that this wallpaper style is not limited to monochromatic palettes, but also comes in multiple colors that blend perfectly into each other.
8. Whimsical and Novelty Paper
Whimsical and/or novelty wallpaper is a favorite of ours. Intoned with playful, tongue-in-cheek elements; it evokes amusement, surprise, and even a childish sense of joy. Perhaps this is why it is more typically found in a child's bedroom, where fantasy and playfulness are more likely to be expected. And while we do advise that it be used sparingly, and with discretion, it can also be an excellent choice for the more "adult" space, and lend it a sophisticated eccentricity when properly employed. One print we are particularly fond of is the peacock feather print by Matthew Williamson for Osborne and Little (featured here). Its rich shades of midnight blues and metallic jade would create an atmosphere of drama in a dining room or library/study. We've even seen a similar paper hung in powder room that had a Gatsby-esque motif that was absolutely sublime. The bottom line is that whimsical al paper, when used with discretion, is a great way to add both fun and personality to any room.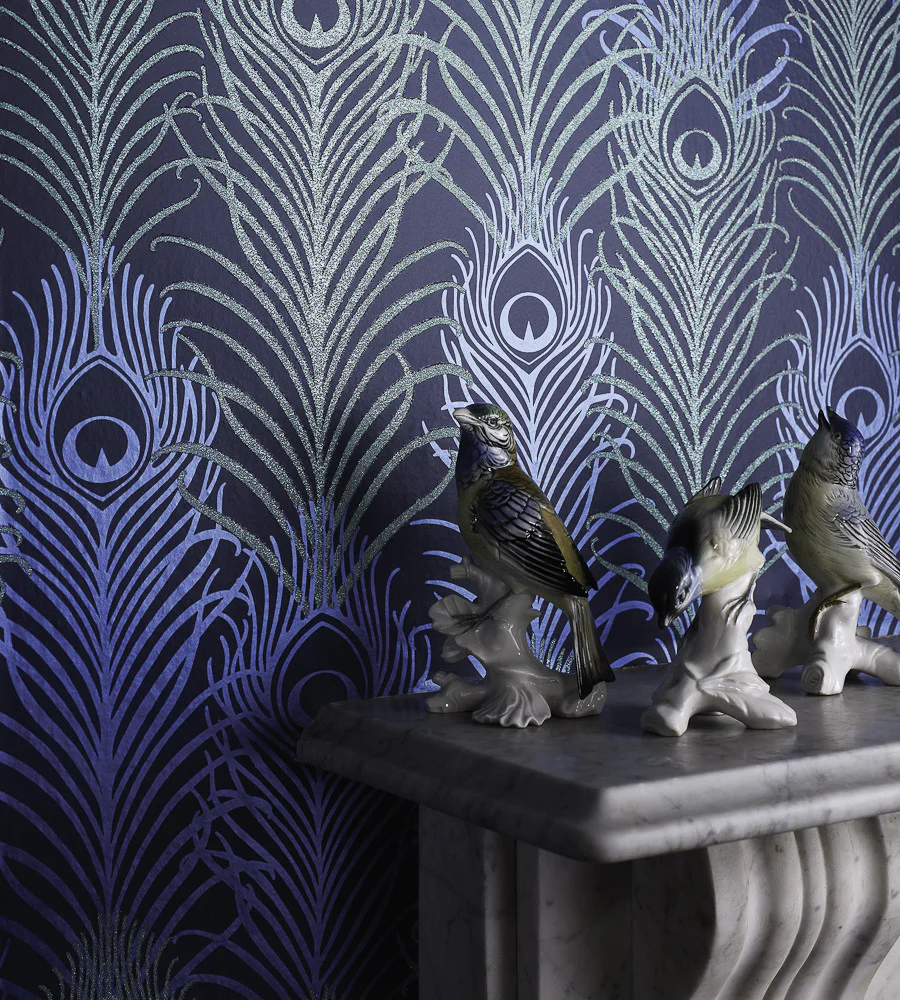 Few would disagree that wallpaper can be effective element in any room design. Along with paints, fabric, furnishings, fixtures and flooring, it unquestionably holds its place in the decorating arsenal of a talented designer. Familiarizing oneself with the basic wallpaper styles and best uses is the first step in achieving a finished look that checks all the boxes, and elevates a project to the highest levels of design.